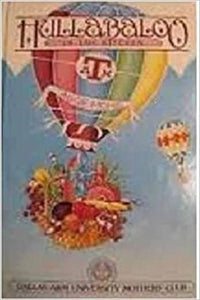 Condition: Very Good - Appears Unread - Small discolouration on fore-edge.   Otherwise an excellent collectable. 
The Dallas A&M Mothers Club, founded in 1922 serves Texas A&M University and established funds and scholarships to help many freshmen.  Mothers had fundraisers and collected recipes over the years with the hope of producing a cookbook. 
Hullabaloo in the Kitchen is the result of a collection of tested recipes served at luncheons receptions and parties as well as our homes." From the forward.
Publishing Details
Hardcover: 381 pages
Dallas A&M University Mothers Club (June 1, 1983)
ISBN-13: 978-0961244606
Dimensions: 23.1 x 16 x 3.3 cm
Weight: 806 g