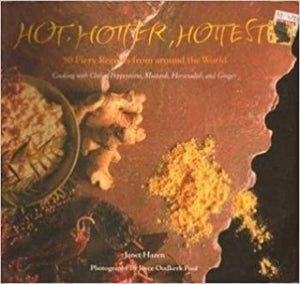 Condition:  Very Good - Text is Crisp and Clean.   Has neatly written inscription.  The cover has some shelf-wear.  

Hot, Hotter, Hottest: 50 Fiery Recipes a strikingly photographed collection of 50 incendiary recipes based on five fiery ingredients--ginger, horseradish, peppercorns, chilis, and mustard--reveals the diversity and vivid flavours of spicy cuisine from around the world.  Hazen rates each recipe by the degree of heat and includes adjustments to increase or reduce its spiciness. 35 full-colour photographs. 
Recipes for appetizers, vegetables, entrees, soups, salads, sauces and condiments, and desserts using chillies, peppercorns, mustards, horseradish, and ginger are included.  
Publishing Details 
Paperback: 112 pages
Chronicle Books (May 1, 1992)
ISBN-13: 978-0811800792
Dimensions: 20.3 x 0.9 x 22.1 cm
Shipping Weight: 430 g