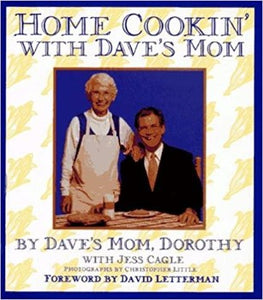 Home Cookin' With Dave's Mom is filled with recipes straight from America's heartland. Dorothy's cookbook contains anecdotes about her children, Jan, David, and Gretchen when they were growing up, practical kitchen tips, witty asides, and Dorothy's gentle wisdom for living. She includes selected photographs from the Letterman family album. 

Memories of Dorothy's own mother cooking over a coal stove are interspersed with recipes along with techniques for canning and freezing vegetables, helpful household hints including Dorothy's homemade window cleaner, and dozens of recipes, featuring fun foods, soups and salads, meats, sauces, and desserts.  From the Publisher
Condition:  
Like New
- Appears Unread
Very Good
  -Appears Unread. Has a remainder mark.  Crease on front-free endpaper.  Dust Jacket has a minor tear and self-wear.  
 
Publishing Details
Hardcover: 176 pages
Simon and Schuster; 1st edition (May 1, 1996)
ISBN-13: 978-0671000608
Dimensions: 21.6 x 2.5 x 24.8 cm
Weight: 724 g