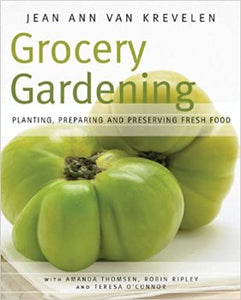 Condition: Very Good+  - Appears as Like New and unread. Has an inscription on the back of the front cover.
Grocery Gardening includes garden planning, planting, preparing, preserving and nutritional information for each of the more than twenty selected edibles. In addition to tips on when to harvest homegrown vegetables, the authors offer advice on how to select the freshest produce at the local market and select complementary ingredients to combine with your home-grown edibles.
Jean Ann Van Krevelen, together with her team of food and gardening experts encourages readers to plan meals based on what is in season.  Also included is a chapter on preserving your harvest, with tips for freezing, drying, canning and preserving. 
What's Growing in The Vegetable Patch
Publishing Details
Paperback: 256 pages
Cool Springs Press (Feb. 1, 2010)
ISBN-13: 978-1591864639
Dimensions: 20.3 x 1.5 x 25.4 cm
Shipping Weight: 703 g