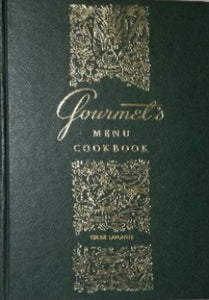 Condition: Like New - Pages crisp, bright and clean- no markings of any kind. Embossed with ornate gilt print on the spine and front board. Tight binding. Fleur-de-lis endpapers. 
Gourmet's Menu Cookbook is a classic.  The introduction, The Art of the Menu is an essay on gastronomy.  The importance of a well-planned menu is key to eating well.  "However ingeniously devised and expertly prepared a dish is, its reception must be dependent on the meal of which it is part..."  
This volume contains menus from informal gatherings to formal and elegant occasions. Illustrations and colour photos of the recipes that complete the menus are included. 
Publishing Details
Bonded Boards: 622 pages, plus index
Gourmet; fifth printing (1972)
ISBN-13: 978-1125588598
Dimensions: 25.1 x 18.3 x 4.1 cm
Weight: 2.1 Kg
Oversized title shipping charge: $10.95