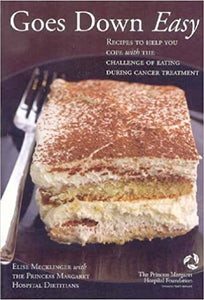 Good nutrition during cancer treatment is key to maintaining strength and energy, as well as aiding in recovery. Elise Mecklinger worked closely with a team of six registered dietitians from Princess Margaret Hospital (Toronto) to develop the recipes for Goes Down Easy inspired by patients' requests for easy, practical recipes to deal with certain nutrition problems. 
Goes Down Easy is a practical guide for people living with cancer, their families and caregivers. The beautifully designed Goes Down Easy cookbook, which contains over 100 recipes, is organized by symptom, so the appropriate recipe is easy to find when you need it.
Each chapter includes advice from dieticians from specializing in cancer, a sample meal plan, suggestions to maintain weight and strength, to keep well hydrated, and to ensure meal plans include enough calories, protein, and fluid.  The recipes require no special ingredients or long preparation time.
Condition: Very Good - minor edge wear
Publication Description
Paperback: 200 pages
Publisher: Princess Margaret Hospital Foundation (May 17, 2006)
ISBN-10: 0978049608
ISBN-13: 978-0978049607
Product Dimensions: 17.37 x 1.09 x 24.92 cm
Shipping Weight: 546 g