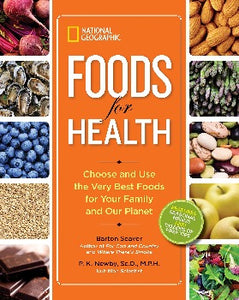 Condition: New 

National Geographic Foods for Health: Choose and Use the Very Best Foods for Your Family and Our Planet explores food and its place in cultures around the world; highlights what it adds to healthy menus today; and advises consumers on what to look for, how to choose, how to prepare and what to avoid in order to make best choices for the table and for the planet. 
Featuring dozens of tips, food pairings, and sample menus, this book details the 148 foods that have high nutritional value with the least environmental impact. 
Barton Seaver, acclaimed chef, and nutritional scientist P.K. Newby have created the ultimate shopping and cooking guide to help nourish you, and your family while you sustain the planet.
Publishing Details
Paperback: 320 pages
National Geographic; 1st edition (Sept. 9, 2013)
ISBN-13: 978-142621338
Dimensions: 19.6 x 2.1 x 24.8 cm
Weight: 1.2 kg

Oversized title shipping charge: $6.95