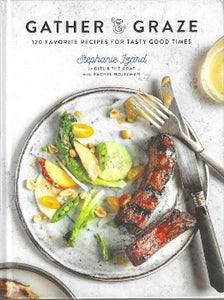 Condition: Like New  - appears unread.  small remainder dot on the bottom fore-edge.
From Chicago restaurateur, Stephanie Izard named one of "10 Breakthrough Rock Star Chefs of 2016" by Rolling Stone, comes Gather & Graze with flavour and fun at the forefront. 
Since becoming Top Chef's first female winner, Stephanie Izard opened three restaurants in Chicago, travelled around China, and became an Iron Chef.  Here she shares a cookbook containing more than 100 recipes that hit all of the right salty, savoury, tangy, and sweet notes. Her craveable, knockout food pairings will delight any home cook: Banh Mi Burgers, Duck Breast with Brown Butter Kimichi, Roasted Shishito Peppers with Sesame Miso and Parmesan, and Sticky Sweet Potato Cake with Blueberry-Tomatillo Jam. 
Publishing details
Clarkson Potter;  (April 3, 2018)
Hardcover: 272 pages
ISBN-13: ‎978-0451495945
Weight: ‎998 g
Dimensions: ‎19.6 x 2.8 x 26.2 cm