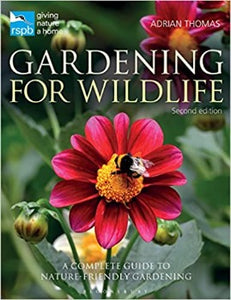 Condition: Like New  -Small scratch on the front cover.
Gardening for Wildlife helps everyone understand how gardens, large or small, can become ideal homes for wildlife.  The book serves as an expert guide to the ecological principles involved while discussing commonly held misconceptions that often deter people from pursuing a kinder approach to gardening.
Adrian Thomas provides a detailed guide to the many and varied species of flora and fauna that can contribute to a natural and healthy garden. There are sections to help create entire habitats, such as woodland and meadow gardens, and a catalogue of the top 400 best garden flowers, shrubs and trees for wildlife, each illustrated in a colour photograph. If you love wildlife and want to encourage more to visit your garden, this inspirational book will help you sow the seeds and reap the rewards.
Publishing Details
Hardcover: 288 pages
Bloomsbury Natural History; 2 ed. (May 9, 2017)
ISBN-13: 978-1472938572
Dimensions: 22.1 x 2.9 x 28.9 cm
Weight: 1.44 kg
Oversized title shipping charge: $6.95