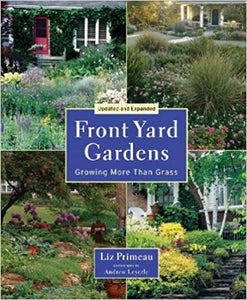 Liz Primeau transformed her manicured lawn into a mixed garden with a profusion of flowering plants, shrubs and cacti that requires no chemicals and little watering. Packed with practical tips and beautiful photographs, Front Yard Gardens:

Explores the history of the lawn and our attachment to it
Contains more than seventy examples of  front yard gardens 
Provides step-by-step instructions to start and grow your own 
This book includes overall planning and design and outlines the steps for removing the grass, enriching the soil, and planting. The book is divided into several types of front yard gardens, including cottage, minimalist, secret, neighbourhood, downtown, and natural. Primeau discusses the key elements of each style, gives tips on how to create and maintain the garden, and provides a list of complementary plants.
Visit The Inspired Flower Garden
Publishing Details
Hardcover: 232 pages
Firefly Books (March 3, 2003)
ISBN-10: 1552977101
Dimensions: 22.2 x 1.9 x 27.3 cm
Shipping Weight: 1.18 kg