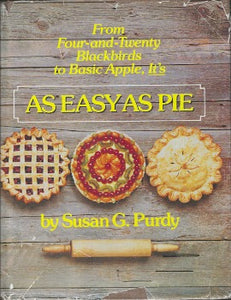 Condition: Good Pages are clean of stains but include limited notes - Dust Jacket is worn at the edges. The spine is undamaged, and the binding is tight.  The book has no edge-wear. 
Susan G. Purdy briefly traces the history of pie and provides recipes for pastries, fillings, toppings, tarts, galettes, turnovers and savoury, custard, chiffon, and frozen pies.  Four-and-Twenty Blackbirds to Basic Apple, It's "As Easy As Pie" is a collection of classic and unusual recipes for every kind of pie from basic apple to Four-and-Twenty Blackbirds.  This book will inspire the beginner and intrigue the experienced pie-maker. 
Including more than thirty kinds of pastry and almost two hundred fifty fillings, both sweet and savoury, for pies, tarts, timbales, and pastry encased treats of all descriptions, It's As Easy As Pie offers a wealth of ideas for elegant entertaining and special family meals. The recipes come from home and around the world.
Publishing Details
Hardcover: 426 pages
Macmillan Pub Co; 1st edition (Sept. 1 1984)
ISBN-13: 978-0689113611
Dimensions: 22.9 x 17.8 x 4.3 cm
Weight: 1.03 kg