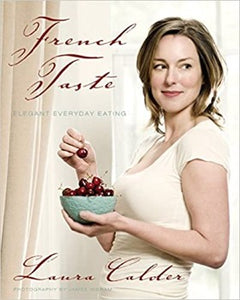 Condition: Like New - Appears unread  
In French Taste, Laura Calder reminds us that we don't have to commit to mastering French cuisine to make a delectable chocolate mousse or a sole amandine. And just because we're in the mood for coq au vin doesn't mean we have to start dinner with a foie gras terrine and end with Grand Marnier soufflé. Calder reminds the reader that we can integrate a French dish into the menus already in our repertoire -- serve coq au vin as the main course, with gingerbread or ice-cream sundaes for dessert. Why not?

French Taste is all about simplicity.  Yes, French cuisine has given the world impressive recipes and techniques, but the French also teaches how to eat with joyful abandon, how to make food look as beautiful as it tastes and how to take time to enjoy good food in good company.  

Publishing Details
Paperback: 320 pages
HarperCollins Publishers; Reprint edition (April 13, 2010)
ISBN-13: 978-1554681020
Dimension: 2.54 x 20.32 x 25.4 cm
Weight: 1.13 kg