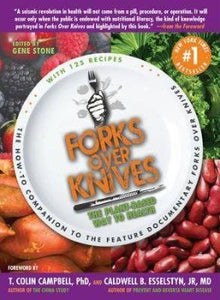 Condition: Very Good
What if one simple change could save you from heart disease, diabetes, and cancer? Eat a whole-foods, plant-based diet. Forks Over Knives teaches that there is nothing else you can do for your health that can match the benefits of a plant-based diet. Now, as Forks Over Knives is introducing more people than ever before to the plant-based way to health, this accessible guide provides the information you need to adopt and maintain a plant-based diet.
Forks Over Knives include insights from Dr. Neal Barnard, Dr. John McDougall, The Engine 2 Diet author Rip Esselstyn, a helpful primer on crafting a healthy diet rich in unprocessed fruits, vegetables, legumes, and whole grains. This book also includes 125 recipes from Blueberry Oat Breakfast Muffins and Sunny Orange Yam Bisque to Garlic Rosemary Polenta and Raspberry-Pear Crisp.
Publishing Details
Paperback: 214 pages
The Experiment (May 19, 2016)
ISBN-13: 9781615190454
Dimensions: 16.2 x 1.4 x 21.5  cm
Shipping weight: 356 g