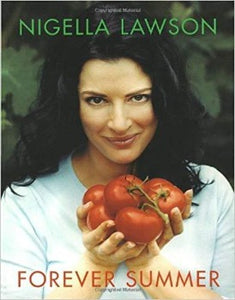 Condition: Like New -Appears as unread. Clean copy. Light rubbing on cover.
In Forever Summer, Nigella Lawson offers recipes that can be eaten at any time of the year. A book of simply prepared dishes, Lawson takes her inspiration from southern Europe, the Middle East and Southeast Asia. The key is simplicity, freshness, and enjoyment.

There's a fabulous selection of unusual desserts — from Anglo-Italian Trifle to Slut-red Raspberries in Chardonnay Jelly.  To complete the summer mood, there are cocktails, both classic and new. Abundant with colour photographs, Forever Summer is about easy cooking and easy eating. 
Publishing Details
Paperback: 288 pages
Knopf Canada (May 18, 2005)
ISBN-13: 978-0676975482
Dimensions: 19.1 x 1.9 x 24.6 cm
Weight: 980g