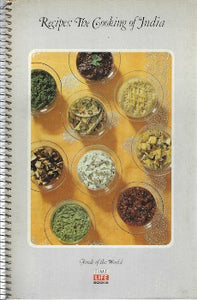 Condition: Very Good 
Foods of the World: The Cooking of India is part of a series of 27 cookbooks published by Time-Life, beginning in 1968 and extending through the late 1970s, that provided a broad survey of many of the world's major cuisines. The individual volumes were written by well-known experts on various cuisines and included significant contemporary food writers, including Craig Claiborne, Pierre Franey, James Beard, Julia Child, and M.F.K. Fisher.  The series combined recipes and the cultural context of these recipes. 

Each volume came in two parts—the main book was a large-format, photograph-heavy hardcover book, while extra recipes were presented in a spiralbound booklet with cover artwork to complement the main book. The spiralbound booklet individual volumes remain popular collector's items. 
Publishing details
Time-Life Books; First Edition, First Printing (1969)
Spiral-bound: 128 pages
ISBN-13: 9780809400690
Weight: ‎238 g
Dimensions: 15.7 x .09 x 22.9 cm
Qualifies for free shipping