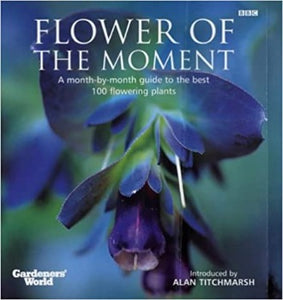 Condition: Like New   Appears unread.  Has a small previous owner label on the front free-endpaper. Dust jacket is in Like New condition with minimal signs of shelf wear.
Flower of the Moment is a month-by-month guide to the best flowering plants. This book provides a full calendar of plants organized by month of flowering.  Flowers are chosen for their beauty, colour and appeal.
Flower of the Moment is a beautifully illustrated book that looks at 100 easy-to-grow plants. From the forbearers of spring the snowdrops, aconites and hellebores, the seasons follow through with narcissus and tulips to the months of June and July with their roses, geraniums, poppies and lupins.  In the autumn with asters and chrysanthemums. 
Publishing Details
Hardcover: 144 pages
BBC Book Pub. reprint (2002)
ISBN-13: 978-0563534143
Dimensions: 20.0 x 1.9 x 28.7 cm
Weight: 1.50 kg
Oversized title shipping charge: $6.95