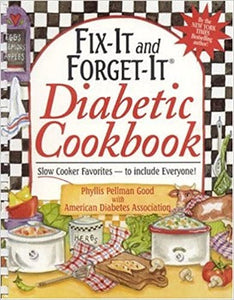 Condition: Like New   -Appears unread. Pages are intact and are not marred by notes, or food, or water stains.
We know that what we eat affects how diabetes behaves. Fix-It and Forget-It Diabetic Cookbook is packed with delicious recipes for everyone -- including those who have to keep track of food exchanges, carbohydrates, sugars, calories, and fats.  
Each recipe comes complete with its Exchange Value, and with its Basic Nutritional Values.   And each recipe,  easy and quick to prepare, emphasizes good nutritional health.  
Proceeds from the sale of this book will be donated to Juvenile Diabetes Foundation Canada
Publishing Details
Paperback: 284 pages
Good Books: (Dec 15, 2004)
Dimensions: 1.9 x 19 x 22.2 cm 
ISBN-10: 1-56148-458-8                   
Weight 470 g