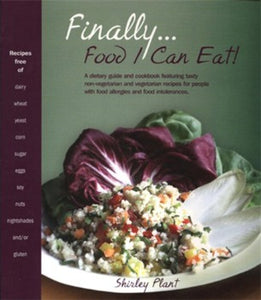 Condition: Like New  Cover has minimal rubbing. Pages are clean and crisp.  Appears as unread.
Struggling to prepare meals that are free of wheat, yeast, eggs, dairy, gluten, soy, corn, and sugar? Finally Food I Can Eat features:
Family-friendly recipes, 

A guide to food allergies and intolerances,

A guide to natural food chemicals, food additives, food families, 

Substitutions and alternatives to foods that you need to avoid,

Recipes that are low in sugar and cholesterol and are great for those following diabetic, candida, allergy-free, or heart-smart diets.
Shirley has found many creative ways of bringing all kinds of healthy food into the daily diet, with lots of good ideas on how to combine them.
General Store Publishing House, (2007)
ISBN: 9781897113561
Dimensions: 20 x 2
 x 7.5" x 22.5 cm