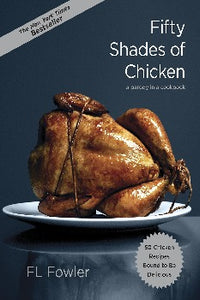 Condition: Very Good - Best Seller Appears Unread.  The cover has minor shelf wear. 
Fifty Shades of Chicken is a spoof-in-a-cookbook with 50 chicken recipes that are bound to enthrall you such as:
Dripping Thighs: The way his apron hangs from his hips already has me all wobbly. But as he coats my thighs with the sticky liquid I can hardly contain myself. Is it the wine, or is my aroma starting to drive him crazy too? 

It's epicureanism run wild! 
Publishing details
Hardcover: 160 pages
Clarkson Potter (Nov. 13, 2012)
ISBN-13: 978-0385345224
Dimensions: 18.4 x 1.6 x 23.5 cm
Weight: 574 g