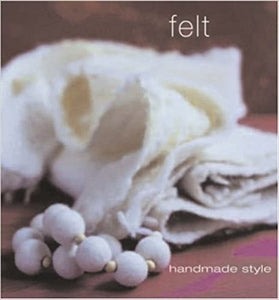 Condition: Very Good+ Light rubbing and minimal edgewear.  Contents bright, clean, crisp and unmarked with tight,  sound binding.  Appears as unread. 
Handmade Style: Felt provides all the information you need to get started to make beautiful felted items.   Felt, an ancient, versatile textile can be made into gossamer-fine, cobweb-like forms, or thick, sturdy fabrics suited to heavy-duty uses. 
Be inspired by all 23 projects that are clearly explained and accompanied by step-by-step photographs and comprehensive diagrams. From scarves, shawls, hats and slippers to bags, rugs, and pet beds, Felt offers bright ideas for accessories and home decoration.
Publishing Details
Paperback: 112 pages
Murdoch Books; 1st edition (Feb. 1, 2007)
ISBN-13: 978-1740458825
Dimensions: 24.4 x 22.2 x 2 cm
Weight: 586 g