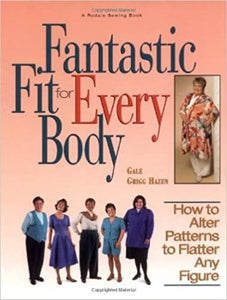 Condition: Used Like New -Appears Unread. Minor corner wear.
Fit expert and educator Gale Griff Hazen shows you a no-fail way to evaluate your unique body shape, how to choose styles and fabrics that will flatter your figure and how to alter patterns to fit you. In Fantastic Fit for Every Body, Gale shares her fit process with sewers everywhere. You will see real people with real fitting challenges. 
Fantastic Fit for Every Body is a celebration of women who create garments that they love to wear. 
Publishing Details
Hardcover: 248 pages
Publisher: Rodale Books (1998)
ISBN-13: 978-0875967929
Dimensions : 20.32 x 1.84 x 27.64 cm
 Weight: 930 g