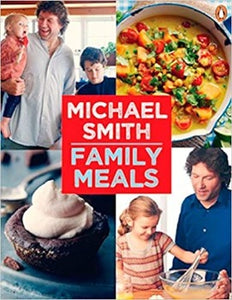 Condition: New Best Seller
 In Family Meals, Michael Smith shares easy-to-make recipes that he loves to cook for his own family, along with tips on how to make cooking together fun. 
Family Meals features 100 recipes straight from Michael's home kitchen. Start your day with Nutmeg Waffles with Banana Butter or Nutty Seed Granola; pack lunches and snacks like Chicken Lettuce Wraps and Granola Muffins. And, you'll find a variety of one-pot meals, hearty soups, stews, casseroles and quick, easy-to-make meals that are all great for a busy week.  
Publishing Details
Paperback: 288 pages
Penguin Canada (Aug. 5 2014)
ISBN-13: 978-0143184119
Dimensions: 21.77 x 1.8 x 27.94 cm
Weight: 1.38 kg