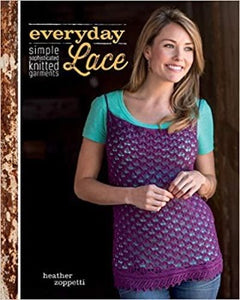 Condition: Like New - Appears Unread.  Minor shelf-wear. 
In this collection of 18 garments and accessories, using lace motifs for edging is only the beginning. Author Heather Zoppetti shows how to knit lace into feminine garments meant for daily wear: as a simple panel insert, as edgings and bands.  Simple shaping and construction are the rules.  
Hidden among the collection of lovely garments is a thorough introduction to the basics of lace knitting, including various cast-ons and bind-offs appropriate for lace knitting. Throughout the book, Heather offers tips designed to help the novice knitter. 
Publishing Details
Paperback: 144 pages
Publisher: Interweave; 1st edition (Sept. 12, 2014)
ISBN-13: 978-1620331347
Dimensions: 21.6 x 1.0 x 26.2cm
Weight: 590 g