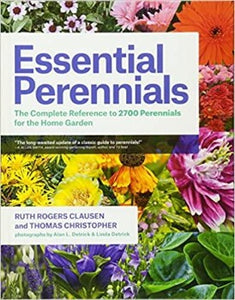 Condition: Like New  -Appears Unread 
Essential Perennials details what every gardener needs to know to choose from the thousands of perennials available and care for the ones you already have.
This A-to-Z guide has entries for more than 2,700 plants, with each entry listing flower colour, bloom time, foliage characteristics, size, and light and temperature requirements. Each profile is supported by colour photography that showcases the flower and foliage that make each plant unique.
Visit the Inspired Flower Garden
Publishing Details
Hardcover: 428 pages
Timber Press (Jan. 22, 2015)
ISBN-13: 978-1604693164
Dimensions: 25.4 x 2.5 x 30.5 cm
Weight: 1.8 Kg