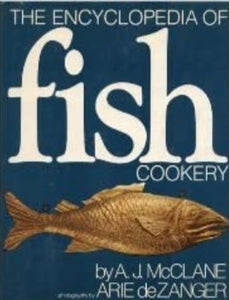 Condition: Very Good
The Encyclopedia of Fish Cookery contains six hundred ninety-five step-by-step photographs illustrating the characteristics, catching, and culinary status of fish and shellfish.  The book includes three hundred fifty-two recipes contributed by some of the world's finest seafood chefs.  In addition, the book covers sauces, stocks, aspics, butters, and all methods of preparation and preservation.
 A.J. McClane is recognized as one of the world's foremost authorities on fishing and piscatorial lore has written an informative and comprehensive book on the subject of fish for the table.  
Publishing details
Hardcover: 511 p
Henry Holt and Co. (1977)
ISBN-13: ‎978-0805010466
Weight: ‎1.93 kg
Dimensions: ‎ 22.9 x 4.5 x 27.9 cm
Oversized title shipping charge: $10.95