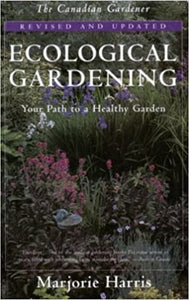 Condition: Very Good
Marjorie Harris has been an organic gardener since the 1960s--encourages the Canadian gardener to garden gently. Ecological Gardening, first published in 1992, this popular guide updates Harris's organic gardening experience:
Compost: Everything you need to about from composting. 
Soil: Learn how to maintain and improve soil 
Bugs: Eliminate the bad bugs without use of pesticides. 
Xeriscaping: Plant a water-efficient garden. 

Ecological Gardening helps Canadian gardeners to create beautiful and healthy gardens while working in harmony with the environment.
Publishing details
Random House Canada (March 26 1996)
Paperback: 204 pages
ISBN-13: 978-0679307891
Weight: 299 g
Dimensions: 14 x 1.37 x 21.5 cm