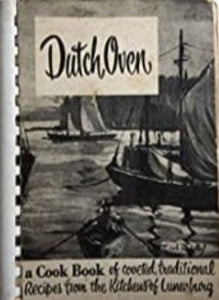 Condition: Good - Copy is clean, no writing, very few light stains.  Spiral binding is tight.  The back cover has shelf wear.
The town and county of Lunenburg, Nova Scotia, has a tradition of hospitality that dates back over two centuries when German settlers first arrived to carve a new life from the wilderness. They developed a unique cuisine that combines longstanding traditions with contemporary ingredients and methods.  
Dutch Oven has nothing to do with a 'dutch oven'—the one-pot cooking device. Because most of the people who contributed to this cookbook are of German descent, and the name is a play on the German word for Deutsch.
The entire book is beautifully handwritten and these recipes are still very easy to read. The book is also lavishly illustrated, with scenes from Luneburg, drawings of the food, and in some cases drawings of how the food is put together. 

Publishing Details
Spiral Bound: 349 Pages
Progress Enterprise: 10th Edition (1969)
ASIN: 

B009DL72JE
Dimensions: 16 x 3 x 21.8 cm
Weight: 642 g