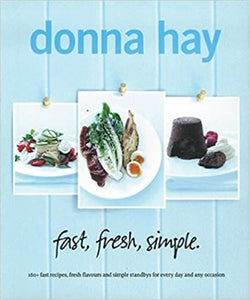 Condition:  Like New -Crisp, Clean, Appears unread. 
Donna Hay's, fast, fresh, simple. distills her vast repertoire of shortcuts, tricks of the trade and ingenious ways to make simple, great-tasting and -looking food in one cookbook, devoted to achieving Donna's signature style. 
The "fast" chapter offers sweet and savoury options for cooks who need to deliver big results in the barest minimum of time. In the "fresh" chapter, Donna looks to the classics and explains how to deliver all the flavour with none of the fuss of time-consuming preparation.  In the "simple" chapter, she details how to take fresh produce and a few store-bought standbys and turn them into a culinary arsenal.
Publishing Details
Paperback: 208 pages
HarperCollins; (Sept. 27, 2011)
ISBN-13: 978-1443407571
Dimensions: 24.8 x 1.9 x 29.8 cm
Weight: 1.3 Kg