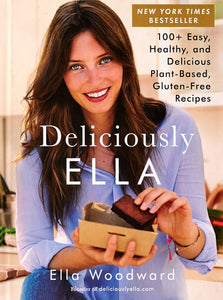 Condition: Like New Best Seller
From the founder of the wildly popular food blog Deliciously Ella, 120 plant-based, dairy-free, and gluten-free recipes with gorgeous, full-colour photographs capture the amazing things we can do with natural ingredients.
Deliciously Ella is an essential, how-to guide to clean, plant-based eating, taking you through the best ingredients and methods for preparing easy, exciting meals. This is not a diet—it's about creating a new mindset that embraces fantastic food. From sweet potato brownies to silky chocolate mousse and roasted butternut squash risotto and homemade fries and ketchup, Ella shares 100 brand-new recipes and twenty classics in her signature, elegant style. Packed with vivid photos and simple, foolproof instructions, Deliciously Ella provides a foundation for a pure, unprocessed, unrefined diet, so you can look and feel better while enjoying great food.
Publishing Details
Weight: 694 g
Paperback: 256 pages
ISBN-13: 978-1476793283
Scribner (March 3, 2015)
Dimensions: 17.15 x 2.03 x 23.18 cm