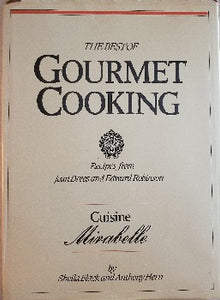 Condition: Very Good -  Minor handling and shelf wear along the edges and corners.  Dust jacket in good condition has shelf and edge wear.  
The Best of Gourmet Cooking: Cuisine Mirabelle is a beautiful Folio book in tribute to London's Mayfair restaurant and its chefs, Robinson and Drees.  "The recipes are not always complicated indeed some are surprisingly simple but they will all give your guests something to talk about. Entertaining is not a matter of serving the right food and wine but making your guests relaxed and happy.  Every effort will be enjoyment".  Forward by Sheila Black.
Cuisine Mirabelle is a wonderful combination of local history, gastronomy and a glimpse into the world of haute cuisine. Printed in brown ink and profusely illustrated throughout with many colour full-page images. 
Publishing Details
Hardcover Folio: 128 pages
Colour Library International; (1979)
ISBN-13: 9780904681604
Dimensions: 32.3 x 1.8 x 23.2 cm
Weight: 1.2 kg
Overweight Shipping Charge $6.95