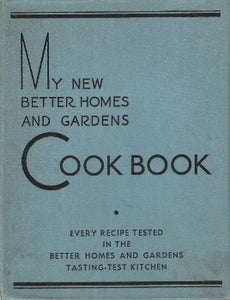 Condition: Good+   Cover has some staining and corner wear.  Pages are intact, however, several have been reinforced.  Text is not marred by highlighting, food or water stains. Six pages have small tears. The binder is undamaged. 
My New Better Homes And Gardens Cookbook is a revised edition of My Better Homes And Gardens Cookbook. It contains hundreds of printed recipes and menus in a loose-leaf binder format. 
The book contains sections for Nutrition & Menu Planning, Beverages, Breads, Cakes & Cookies, Candies, Canning & Preserving, Pickles, Desserts, Chicken, Fish & Game, Meat, Casserole, Cheese & Egg Dishes, Pies, Salads & Sandwiches, Soups, Vegetables. 

Publishing Details
Hardcover Binder: 188 pages
Meredith Publishing; Revised Edition (1938) 
ASIN: B004VBTNW0
Dimensions:  24.7 x 4.5 x 20.1 cm
Weight: 816 g