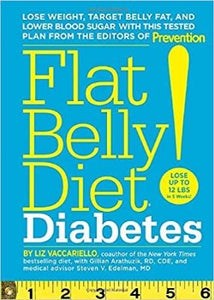 Condition:  Like New
Monounsaturated fatty acids (or MUFAs) may not only target stubborn belly fat but may also help treat the underlying cause of type 2 diabetes: insulin resistance.

The 5-week program includes a sensible diabetes-friendly diet that teaches you how to incorporate pasta, chocolate, and other "forbidden" foods along with a MUFA at every meal into over 150 satisfying dishes.
Flat Belly Diet! Diabetes also includes a gentle walking-based exercise plan, stress reduction exercises, advice on how to work with one's doctor and diabetes management team, and a journal to help track blood sugar. 
Publishing Details 
Rodale Books; Reprint (March 1, 2011)
Dimensions: 16.5 x 3.2 x 23.2 cm
Weight: 662 g
ISBN-13: 9781609613808