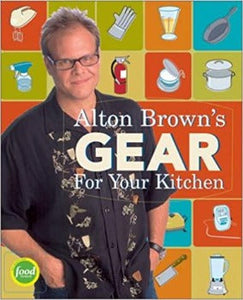 Condition: Very Good  Text is clean and crisp.  Minor shelf wear.
Gear for Your Kitchen presents an offbeat look at kitchen gadgets and equipment.  Alton Brown explains how to select the best and simplest tool for the job and offers practical advice on what is needed and what works.  Along with twenty-five recipes that use the featured tools Gear For Your Kitchen Brown begins with advice on kitchen layout and organization.  Big Things with Plugs; Pots and Pans; Sharp Things; The Tool Box; Small Things with Plugs; Storage and Containment; and Safety and Sanitation are all featured.
Gear For Your Kitchen is essential for anyone who wants a good guide to great kitchen gear.
Publishing Details
Harry N. Abrams (Oct. 1 2003)
Hardcover: 256 pages
ISBN-13: 978-1584796961
Weight: 646 g
Dimensions: 19.7 x 3.2 x 24.1 cm