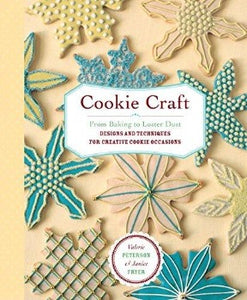 Condition:  Very Good +  Best Seller
Beautifully decorated cookies are within reach for every home baker, thanks to the easy and practical methods developed by cookie-crafting enthusiasts Valerie Peterson and Janice Fryer. From rolling and cutting to flooding and piping, you'll find dozens of techniques to turn plain cookies into fun treats for your next special occasion.  
Cookie Craft with instructions for making stand-up cookies, tips on creating icing colour palettes, and advice on freezing and shipping, the cookie fun never stops!
Publishing Details
Hardcover: 158 pages
Storey Publishing (Oct. 24, 2007)
ISBN-13: 978-1580176941
Dimensions: 19.7 x 1.8 x 23.8 cm
Weight: 597 g