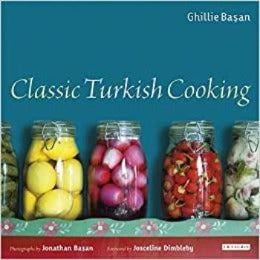 Condition: Very Good
Classic Turkish cooking ranks among the greatest cuisines of the world. It has a long and colourful history, from its nomadic roots to the refined recipes of the Ottoman empire that influenced culinary traditions throughout the Middle East and the Mediterranean.
In this classic and much-loved work, Classic Turkish Cooking- shortlisted for the Glenfiddich Cookery Award and the Guild of Food Writers Award—Ghillie Basan presents a unique collection of delicious traditional dishes from the Anatolian heartlands and sophisticated and classical recipes from the palace kitchens of the Ottoman sultans.
Publishing Details
I.B.Tauris; (Jan. 3 2012)
Paperback: 224 pages
ISBN-13: 978-1848859845
Shipping weight: 994 g
Dimensions: 24.6 x 2.5 x 23.3 cm