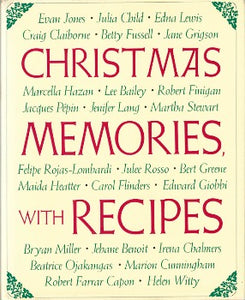 Condition: Very Good +
Christmas Memories With Recipes brings together the holiday food memories of 25 celebrated cooks and writers.  Loving descriptions of steaming kitchens, elaborately set tables, and exotic feasts, makes this a book to read and use.  
Julia Child writes cheerfully of her encounters and hilarious collisions with Bûche de Noel, the French pastry shaped like a woodland log. Contributors to this collection of over 150 recipes that range from mellow Californian to highly spiced Peruvian, include Craig Claiborne, Jacques Pépin,  Martha Stewart, Edna Lewis, Jane Grigson, Jehane Benoit and Marcella Hazan.   
Publishing details
Hardcover: 315 pages
Farrar, Straus and Giroux; 1st edition (November 1, 1988)
ISBN-13: 978-0374123284
Dimensions: 19.5 x 3.3 x 23.5 cm
Weight: 791 g