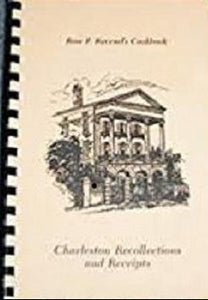 Condition:  Very Good Vintage -  No markings of any kind
In Charleston Recollections and Receipts  Rose P. Ravenel (1850-1943) daughter of a Huguenot planter, merchant, and shipowner, kept notebooks throughout her life with stories of the Carolina Lowcountry, accounts of her family and her humorous insights.  During her lifetime Ravenel collected more than two hundred receipts from Charleston ladies of her acquaintance.   Editor, Elizabeth Ravenel Harrigan, great-niece of Rose P. Ravenel put together a selection from her ancestor's notebooks to re-create twelve delicious Charlestonian meals and to capture memories of Charleston before and after the Civil War.
Also included are drawings by Ravenel and her friend Lisa Huger Smith.
Publication Details
Spiral Paperback:  91 pages
Copyright 1983 by Elizabeth R. Harrigan, Sewanee, Tennessee
Printed by Lellyett and Rogers, 1983
Dimensions: 15.5 x 1.2 x 22.8 cm
Weight: 210 g