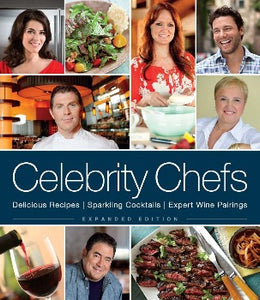 Condition: Like New
Celebrity Chefs features renowned chefs and their delectable, yet doable, dishes, wine-and-food pairings by Kevin Zraly, and cocktails from top restaurateurs. From appetizers like Emeril Lagasse's Herbed Goat Cheese Buttons to Bobby Flay's Pulled Pork with Black Pepper Vinegar to Todd English's Apple Crepes.   
Celebrity Chefs
 include cooking tips, photos, and reminiscences. 
Contributors include Ted Allen, Lidia Bastianich, Rick Bayless, Mark Bittman, Rocco DiSpirito, Ree Drummond, Todd English, Guy Fieri, Bobby Flay, Carla Hall, Hubert Keller, Emeril Lagasse, Nigella Lawson, Deborah Madison, Sara Moulton, Wolfgang Puck, Rachael Ray, Marcus Samuelsson, Barton Seaver, Martha Stewart, Alice Waters, and Kevin Zraly.
Publishing Details

Hearst, (Oct. 21 2014)
Hardcover: 192 pages
ISBN-13: ‎978-1618371485
Dimensions: ‎ 20.9 x 2.5 x 24.8 cm
Weight: 706 g