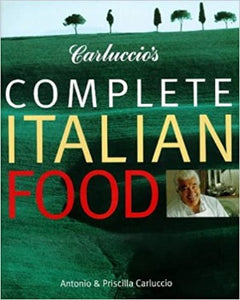 Condition: Very Good -  Crisp and Clean.  Has the previous owner's name neatly inscribed obscured by the dust jacket.  Minor shelf-wear otherwise exceptional condition. 
Antonio Carlucci aims to distil a lifetime's knowledge of Italian food and experience into one book. Divided into 11 chapters by type of ingredient, each begins with an introduction describing agriculture and production and then features an A-Z of ingredients, including varieties and specialties.
Carluccio's Complete Italian Food is a feast for the eyes as well as the stomach! Each area of Italy is accompanied by recipes using produce indigenous to that region. The recipes themselves are simple, authentic and a wealth of details about all things in the Italian kitchen. 300 illustrative colour photos. 
Publishing Details
Hardcover: 320 pages
Raincoast Books; 1st ed (1997)
ISBN: 978-1551921051
Dimensions: 21.1 x 2.3 x 26.5 cm
Weight: 1.54 kg