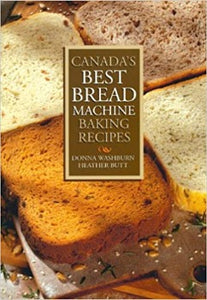 Condition: Like New Best Seller
For anyone who enjoys the flavour and aroma of freshly baked bread, nothing beats the convenience of a bread machine.  But a bread machine is, after all, just a machine. If you want the best results, you need the best recipes -- recipes that not only taste great but are specifically designed to meet the exacting requirements of the technology. And that's just what you get with Canada's Best Bread Machine Baking Recipes.
Here you'll find a collection of over 125 recipes.  Try traditional Sourdough Bread, Jalapeno Cheese Bread, Potato Chive Bread, and Chocolate Banana Loaf.  Prepare dough for a wide variety including Middle Eastern Flatbread, Montreal-style Cheese Onions Bagels, Focaccia with Parmesan Walnut Topping and Giant Pecan Sticky Buns.
Publishing Details
Robert Rose; 3rd Printing  (Jan. 1, 1999)
Paperback: 192 pages
ISBN-13: 978-0778800033
Weight: 452 g
Dimensions : 24.89 x 17.78 x 1.37 cm