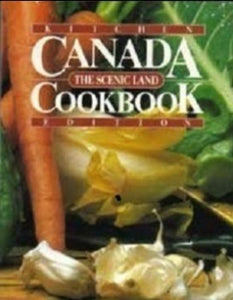 Condition: Very Good - The book is unblemished in Like New condition.  The dust jacket has minor edgewear, some rubbing. The back of the jacket has a small 2 cm repaired tear at the top edge. 
Canada The Scenic Land Cookbook is not just a coffee table cookbook. It is a celebration of Canada, its people, its heritage, and its diverse cuisine.  There are 350 recipes grouped according to region and type of cooking.  Included are over 200 photographs, half of them are pictures of prepared food while the others capture Canada's beauty.  
This book will guide you across the country to discover fabulous regional and multicultural cuisines.  Every collector of Canadian cookbooks should have this on their shelf.
Cooking with Great Canadian Chefs 
Publishing Details
Hardcover: 216 pages Folio
Whitecap Canada; (1986)
ISBN 13: 9780920620809
Dimensions: 24.9 x 2.3 x 33.6 cm
Weight: 1.87 kg