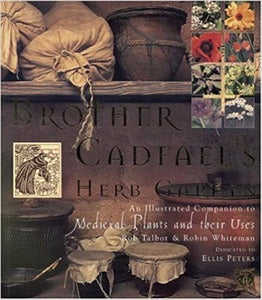 Condition: Like New - Appears as unread
Brother Cadfael is the world's best-known twelfth-century monk, a renowned herbalist and clever sleuth who has appeared in twenty novels.  Now, with this beautifully illustrated book, Cadfael fans can spend a typical year with their favourite monk, following him on his rounds as Shrewsbury's apothecary and healer, visiting his garden, and learning more about hundreds of herbs -- many of which are still cultivated today.
Brother Cadfael's Herb Garden is a succinct history of herbal remedies and monastic herb gardens and is a complete A-to-Z guide to the medical uses for every herb and plant mentioned in the Ellis Peters books.
Publishing Details
Hardcover: 200 pages
Bulfinch Press;  UK (April 1, 1997)
ISBN-13: 978-0821223871
Dimensions: 22.2 x 2.5 x 24.8 cm
Weight: 1.1 kg
Oversized title shipping surcharge $6.95
Overweight Shipping Surcharge $6.95