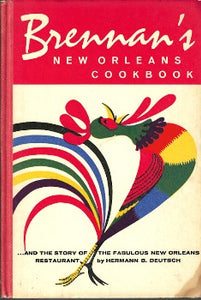 Condition: Good +  Text is clean and unmarred.  The spine is straight and all pages are intact, with minor edge wear. Both front and back covers have staining on the lower corner. No dust jacket.  Date neatly inscribed on front-fore endpaper. 
Brennan's restaurant on Royal Street was a culinary landmark from its establishment in 1946 until its closure in 2013.  Brennan's New Orleans Cookbook is a collection of the Brennan family's distinctive Creole recipes first published in 1961. Also includes the restaurant's history and illustrations.
For more than six decades, "Breakfast at Brennan's" was synonymous with the elegant, gourmand culture of the Crescent City. This classic work captures the taste of the inventive spirit of the master chefs. These dishes, are simple to prepare and include recipes for the house specialties and beverages.  This book is a must for everyone with a craving for true New Orleans flavour! 
Publishing details
Robert L. Crager;  Fourth Printing (1964)
Hardcover: ‎ 244 pages
ASIN: ‎B000WPXU0A 
Weight: ‎608 g
Dimensions: ‎15.0 x 2.0 x 22.4 cm