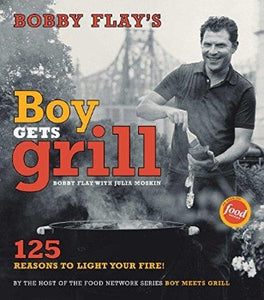 Condition: New
Boy Gets Grill is set on a rooftop in Queens overlooking the Manhattan skyline and celebrates the explosive flavours of his hometown's diverse neighbourhoods.  In Bobby Flay's New York there is great grilling: from Chinatown to Greek food in Astoria, Arthur Avenue in the Bronx (for old-style Italian); or lower Lexington Avenue (better known as Curry Hill, for Indian). 
The recipes in Boy Gets Grill are the quickest and easiest that Bobby has ever created and full of ideas for entertaining and enjoying the company of family and friends. In the "Big Parties" section, Bobby goes through every step of preparation for a Fish Taco Party, Burger Bar, and a Skewer Party.  
The book includes cool drinks to sip while the fire gets hot, as well as appetizers, salads, simple desserts, and, of course, the meats, fish, and poultry that everyone loves to grill. Bobby makes life easier and encourages everyone to think big, have fun, and get their hands dirty.
Publishing Details
Hardcover: 320 pages
Scribner (May 18, 2004)
ISBN-13: 978-0743254816
Dimensions: 20.7 x 2.5 x 23.2 cm
Weight: 874 g