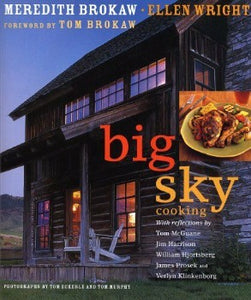 Condition: Like New
The wide-open spaces, dramatic peaks, rolling pastures, abundant wildlife, clean, fresh air and clear waters draw people to Big Sky. Big Sky Cooking re-creates this lifestyle with prairie picnics or campfire celebrations, the ultimate barbecue or supper under the stars in nearly one hundred recipes.
Since a hearty breakfast is vital to generating the physical stamina needed for a day of horse riding and cattle herding, the authors offer recipes for baked eggs, rich cinnamon rolls, and sage-chive biscuits. Picnic lunch on the range features bison burgers. Bison also appears in a distinctive version of osso buco. Mexican-inspired foods, margaritas, chilis rellenos, and guacamole dominate.
Big Sky Cooking combines delicious recipes, reflections from well-known writers and artists and 150 colour photos that capture the essence of the American West—the ideal gift book for anyone who loves the Western plains.
Publishing Details
Artisan; (May 1, 2006)
Hardcover: 224 pages
ISBN-13: 978-1579652685
Weight: 1.24 kg
Dimensions: 22.7 x 2.3 x 26.1 cm