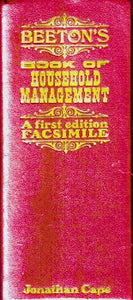 Condition: Very Good Best Seller  Clean text with no markings of any kind. Green cloth-covered boards have minor shelf wear.  Crimson quarter-cloth binding has gilt embossed decoration on the spine. Spine and binding tight.  No dust jacket.  
This Victorian classic is a compendium of practical household advice. Mrs. Beeton's Book of Household Management is foremost a book that offers advice on fashion, child-care, animal husbandry, poisons, seasonal produce, and the management of servants. Beeton's book explores the foods of Europe and contains hundreds of recipes.  
Beeton's Book of Household Management is full of historic and literary anecdotes - she aimed to give her readers a thorough education. Today it is more than just a historical curiosity; as well as a great sourcebook for nineteenth-century recipes, it also provides a fascinating insight into the lives of the people of its time and is a thoroughly entertaining read. This is a first-edition facsimile of the 1861 text.
Publishing details
Jonathan Cape Limited,(January 1, 1968)
Hardcover: ‎1112 pages
ISBN-13: ‎978-0224614733
Weight: 845 g
Dimension: 12.4 x 7.3 x 17.6 cm