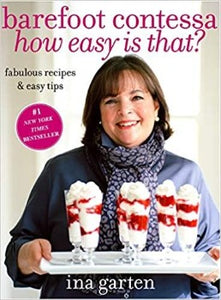 Condition: Like New Best Seller
In Barefoot Contessa How Easy Is That? Ina proves that it doesn't take complicated techniques, special equipment, or hard to find ingredients to make wonderful dishes for your family and friends. This cookbook is all about saving time and avoiding stress while having fun in the kitchen. With 225 color photographs it is the perfect kitchen companion for busy home cooks.
These Barefoot Contessa recipes are easy to make. Think Pink Grapefruit Margaritas served with Smoked Salmon Deviled Eggs—two classics with a twist. For lunch, Ina makes everyone's favorite Ultimate Grilled Cheese sandwich and Snap Peas with Pancetta. For dinner, try Jeffrey's Roast Chicken; Steakhouse Steaks, which come out perfectly every time; or an Easy Parmesan Risotto made in the oven instead of stirring on the stovetop. Finally, Ina's desserts never disappoint—from Red Velvet Cupcakes to Chocolate Pudding Cream Tart.
Publishing Details
Clarkson Potter, (Oct. 26 2010)
Hardcover: 256 pages
ISBN-13: 978-0307238764
Weight : 2.05 kg
Dimensions: 25.9 x 2.1 x 19.9  cm