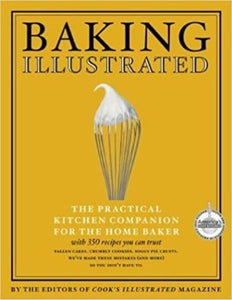 Condition: Like New -Appears unread

Baking Illustrated is the result of the collective wisdom of the editors of Cook's Illustrated magazine. Whether readers are baking Brownies or Peanut Butter Cookies, Crescent-Shaped Rugelach with Raisins, Soft Pretzels or Buttermilk Biscuits, they'll find everything within these pages. 
Lengthy prologue explain the tests the editors conducted to arrive at each recipe, with humorous characterizations of what not to do (e.g. avoiding the lean, mean, whole-wheat-flour oatmeal scone).  The "Blueberry Muffin Hall of Shame," is complete with mug shots of the guilty muffins (mashed, sticky surface, flat top).  With step-by-step illustrations... this is an indispensable, comprehensive baking reference. - From Publishers Weekly abridged.
Publishing Details
Hardcover: 515 pages
Cook's Illustrated; 1st edition (March 1, 2004)
ISBN-13: 978-0936184753
Dimensions : 23.5 x 5.08 x 28.58 cm
Weight: 1.7 kg
Oversized title shipping surcharge $6.95