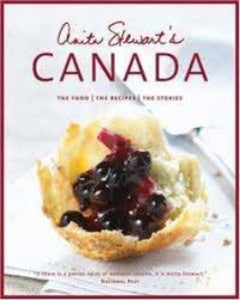 Condition:  Like New - Appears as unread.  Minor corner crush - otherwise exceptional -Appears as unread
Canadians are becoming increasingly aware of the benefits of eating locally produced food: it tastes better; it supports the community; and, because it doesn't need to be shipped long distances, it's better for the environment.  Anita Stewart's Canada features recipes that range from the traditional Cape Island Lobster to Georgian Bay Whitefish Masala.
More than a recipe book each chapter describes the history of the theme ingredients, and every recipe carries a story and a tradition. Anita dips deep into the past as well, with a chapter on the early indigenous foods of the First Nations. With over 150 new recipes, beautiful photography and many wonderful personal stories from food producers, restaurateurs and home cooks, Anita Stewart celebrates the range of ingredients and traditions that can be found in Canada.  
Publishing Details
Hardcover : 288 pages
HarperCollins Publishers Ltd (April 14 2008)
ISBN-13: 978-1554682317
Dimensions: 20.32 x 2.54 x 25.4 cm
Weight:1.33 kg