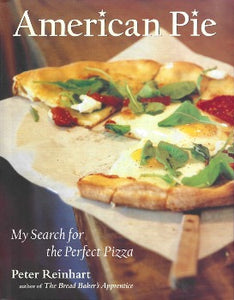 Condition:  Like New   -Top 10  Bestseller
In American Pie: My Search for the Perfect Pizza Master bread baker Peter Reinhart follows the origins of pizza from Italy to the States, capturing the stories behind the greatest artisanal pizzas of the Old World and the New.  Beginning his journey in Genoa,  in search of the fabled focaccia col formaggio. He next heads to Rome to sample the famed seven-foot-long pizza al taglio, and then to Naples for the archetypal pizza Napoletana. Back in America, the hunt resumes in the pizza meccas of  New Haven,  Providence, Chicago, and California. 
Reinhart gives a master class on pizza-making techniques and provides more than 60 recipes for doughs, sauces and toppings, and the pizzas that bring them all together. His insatiable curiosity and gift for storytelling make American Pie essential reading for those who aspire to make great pizza at home. 
Publishing details
Ten Speed Press; (Nov. 4, 2003)
Hardcover: ‎272 pages
ISBN-13: 978-1580084222
Weight: ‎867 g
Dimensions: ‎18.6 x 2.8 x 23.5 cm
Free Shipping